PERFORMANCE CLUB W NIGHT
Op 12 november 2022 stond dans en performance centraal in een speciale editie van Club W in het roze walhalla. Dansers Lorena V. (Mexico) en Anna Tafel (GE) lieten zich inspireren op het verschijnsel van Volle Maan. Met twee energieke performances die overliepen naar een feest gedurende de maan opkwam. DJ Fleur du Bonheur zorgde voor extra energie met haar muzikale veelzijdige mix. In dit nieuwe jaar kun je meer multidisciplinaire Club W events verwachten i.s.m. Kelly Vanneste die het dans & performance programma in het Werkwarenhuis mee vormgeeft. Wil je nog even nagenieten van het Volle Maan feest, bekijk dan de clip van Jason Suen
Floating & transforming, a new state of mind…
Volle maan, een prachtige verschijning, die maar een paar keer per jaar voorkomt.
Een nacht minder goed slapen is vaak een gevolg. Heb je er wel eens aan gedacht om tijd te nemen en naar buiten te kijken om deze felle grote bol te bewonderen? Hoe kalmerend dit kan zijn en dat je er zelfs meer energie van kan krijgen!
Over de performances
Anna Tafel is a young maker and dancer from Germany whose movement language is defined by a high interest in empowering softness and sensitivity to be loud and expressive. Trained in the style Waacking and being part of the crew "Mānuka – Waacking flowers", there is a big influence of working with qualities that come with that style like presence and elegance, quick rotational arm movements and fluidity. Anna has been busy within the context of theatre for several years now, where she could work with institutions like Schauspiel Köln, Korzo and Harmonie Phileutonia Eindhoven. Some choreographers she was working with and learning from are Sarada Sarita, Junadry Leocaria and Nutrospektif. Apart from that, she is also busy in the Waacking community, organizing events, battling, winner of 'La Fiesta Waacking' in Madrid, and teaching. Currently she is studying Dance and Choreography at Fontys in Tilburg.
Lorena V
Lorena V is originally from Mexico, where she started dancing at the age of 3. Lorena moved to the US in 2012 to be part of the American TV show  "America's Best Dance Crew". She danced in music videos for singers Mya, JoJo, Jody Watley and Nayer, among others. She performed at TV stations such as MTV, Univision, FOX 11 and NBC. She started dancing Whacking (Queer Underground Club dance style from California) in 2008 and she's been teaching this style for over 11 years now. She is faculty of legendary studios in Los Angeles such as "Debbie Reynolds" and "Movement Lifestyle" studio, and leading online platform "Steezy".  She has been teaching and sharing Whacking overseas in countries such as: Italy, Spain, London, Greece, UK, Belgium, Germany, Canada, Costa Rica, Mexico, Colombia, Russia, Indonesia, El Salvador among others.
"ECLIPSE"
An obscuring of a being's light by the passage of another, creates contrast, shadows, opposites. When the eclipse happens, for one moment Light and Darkness hold the same power. In one's self, this illumination phenomenon is an encounter between opposite emotions. Emotions that don't define us. They are simply sources of liberation and transformation.
DJ Fleur du Bonheur
Fleur du Bonheur is passionate about connecting mind, body and soul through music and she loves sharing good vibrations in word, sound and presence. Thus, she aims to touch hearts and uplift the energy where ever she goes.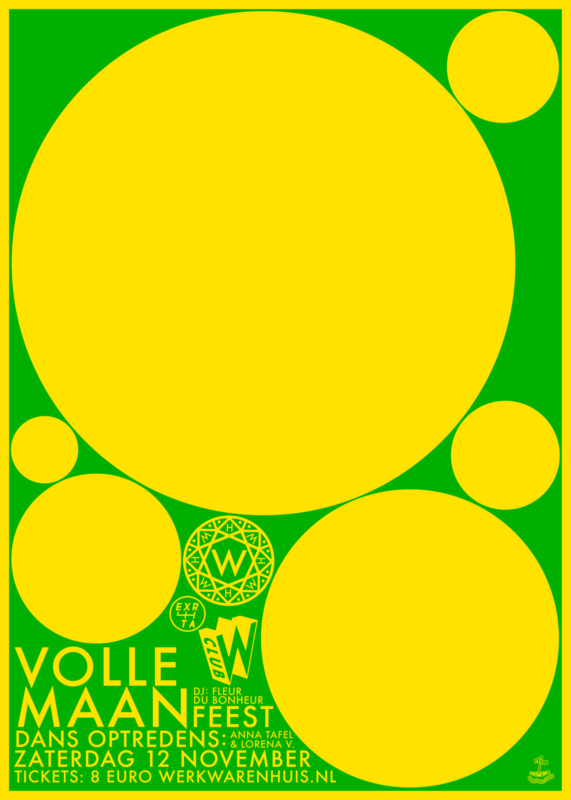 (foto credit: beeld Come Back And You'll Know van Anna Tafel door May van den Heuvel)